European Reference Networks
European Reference Networks (ERNs) are virtual networks involving healthcare providers across Europe. They aim to tackle complex or rare diseases and conditions that require highly specialised treatment and concentration of knowledge and resources. No country alone has the knowledge and capacity to treat all rare and complex diseases. ERNs offer the potential to give patients and doctors across Europe access to the best expertise and timely exchange of life-saving knowledge, without having to travel to another country.
The mission of ERN GUARD-Heart is to facilitate access to diagnosis and treatment of rare and complex diseases of the heart in adult and paediatric patients across the European Union. ERN GUARD-Heart brings together 44 expert healthcare providers from 16 different Member States committed to patient-centred care and efficient practice based on evidence, knowledge, education, and translational research. The focus is on genetically transmitted heart disease and several specific procedures in paediatric patients.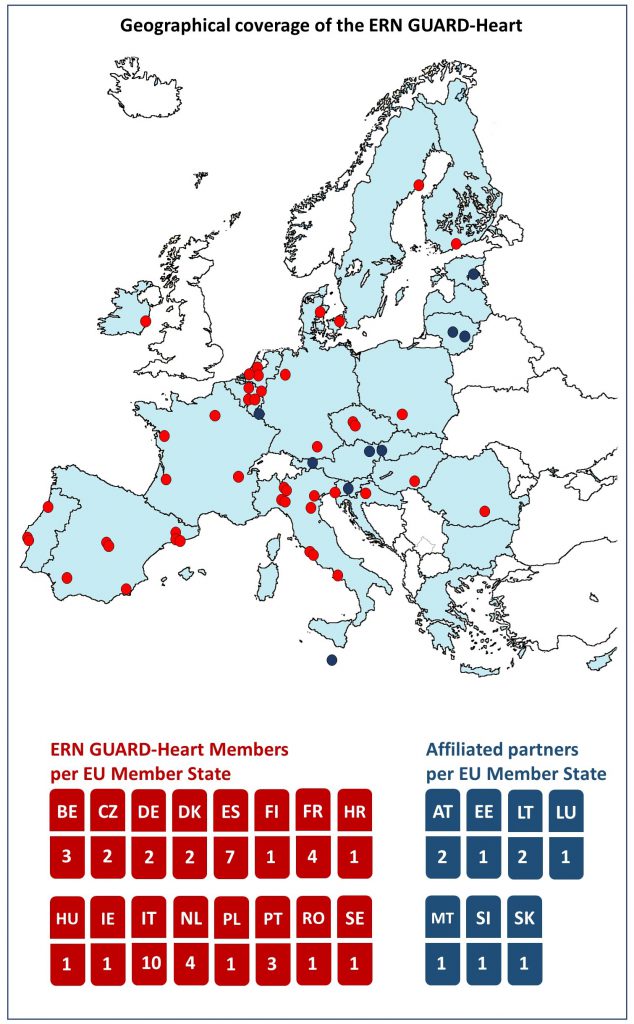 EU Member State (City)
Healthcare provider (full members)
Thematic areas
Belgium (Antwerp)
Antwerp University Hospital
1, 2
Belgium (Brussels)
University Hospital Brussels
1,2
Belgium (Leuven)
University Hospitals Leuven
1, 2,

4

,

5

Croatia (Zagreb)
University Hospital Centre Zagreb
2, 4
Czech Republic (Prague)
Motol University Hospital
1, 2, 3, 4
Czech Republic (Prague)
Institute of Clinical and Experimental Medicine
1, 2
Denmark (Aarhus)
Aarhus University Hospital
1, 2
Denmark (Copenhagen)
Copenhagen University Hospital – Rigshospitalet
1, 2, 4
Finland (Helsinki)
HUS Helsinki University Hospital
1, 2, 3, 4, 5
France (Bordeaux)
Bordeaux University Hospital
1
France (Lyon)
Louis Pradel University Hospital – Hospices Civils de Lyon
1, 2
France (Nantes)
Nantes University Hospital
1
France (Paris)
Assistance Publique – Hôpitaux de Paris
1, 2, 3, 4, 5
Germany (Munich)
Munich Consortium for Rare Heart Disease
1, 2
Germany (Münster)
University Hospital Münster
1, 2, 4
Hungary (Szeged)
Albert Szent-Györgyi Medical Center
1, 2
Ireland (Dublin)
Mater Misericordiae University Hospital
1, 2, 3, 4
Italy (Bologna)
Policlinico Sant'Orsola Malpighi University Hospital Authority
2, 5
Italy (Milan)
Instituto Auxologico Italiano, IRCCS
1, 2
Italy (Milan)
 IRCCS – Policlinico San Donato – University Hospital
4
Italy (Naples)
AORN dei colli – Monaldi Hospital
2, 5
Italy (Padua)
Azienda-Ospedale University of Padua
1, 2, 3, 4, 5
Italy (Pavia)
Scientific Clinical Institutes Maugeri IRCCS
1
Italy (Pavia)
Policlinico San Matteo IRCCS University Hospital Foundation
2
Italy (Rome)
Agostino Gemmeli IRCCS University Hospital Foundation
4
Italy (Rome)
Bambino Gesù Children's Hospital IRCCS
1, 2, 3,

4

,

5

Italy (Trieste)
Giuliano Isontina University Health Authority
2, 5
Netherlands (Amsterdam)
Amsterdam University Medical Centers
1, 2, 3, 4
Netherlands (Maastricht)
Maastricht University Medical Center+
1, 2
Netherlands (Rotterdam)
Erasmus University Medical Center
2, 4
Netherlands (Utrecht)
University Medical Center Utrecht
1, 2, 5
Poland (Katowice)
Medical University of Silesia, Upper Silesian Medical Center
2
Portugal (Lisbon)
Central Lisbon University Hospital Center
2, 4
Portugal (Lisbon)
Western Lisbon Hospital Center
4
Portugal (Porto)
São João University Hospital Center
2
Romania (Bucharest)
Emergency Institute for Cardiovascular Diseases Prof. Dr. C.C. Iliescu
2, 5
Spain (Barcelona)
Hospital Clínic de Barcelona
1, 2, 5
Spain (Barcelona)
Sant Joan de Déu Barcelona Children's Hospital
1, 2, 3,

4

Spain (Barcelona)
Vall d'Hebron University Hospital
2, 4
Spain (Madrid)
Hospital Universitario Puerta de Hierro Majadahonda
2,

5

Spain (Madrid)
Gregorio Marañón General University Hospital
2
Spain (Murcia)
Virgen de la Arrixaca University Hospital
1, 2, 3
Spain (Seville)
Virgen del Rocio University Hospital & Virgen Macarena University Hospital
4
Sweden (Umeå)
University Hospital of Umeå
1, 2, 3