University Medical Center Utrecht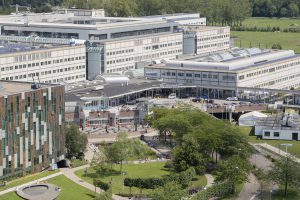 Healthcare provider
UMC Utrecht is one of the top-ranked academic medical centers in Europe with the core tasks of care, research and education. With more than 12,000 employees, UMC Utrecht, of which the Wilhelmina Children's Hospital is a part, is one of the largest public healthcare institutions in the Netherlands and the largest employer in the Utrecht region. Our mission: together we improve the health of people and create the care of tomorrow. Together we create more value, because we believe that every person counts.
At UMC Utrecht research is concentrated in six multidisciplinary programs: Brain, Infection & Immunity, Circulatory Health, Cancer, Child Health and Regenerative Medicine & Stem Cells. In line with Open Science we aim for interaction with patients and society to create an 'innovation loop' where societal issues guide scientific research and where scientific results quickly move from bench to bedside. Our multidisciplinary and integrative approach guarantees that patients benefit from the latest available expertise and innovative technological solutions. UMC Utrecht collaborates with many regional, national and international partners in the field of care, research and education.
UMC Utrecht collaborates with many regional, national and international partners in the field of care, research and education.
Center of Expertise
In our center of expertise,  about 2000 patients with potential inherited cardiovascular disease and their relatives are seen on a yearly basis. We provide multidisciplinary care, with several specialized geneticists, (paediatric) cardiologists, radiologists, psychosocial workers and other specialists in our team. Complex cases are discussed biweekly in our multidisciplinary meetings, which are easily (digitally) accessible for colleagues. Since 2013, we offer next-generation sequencing panels for different cardiovascular conditions. Moreover, we have a leading role in (inter)national translational research projects and have deep phenotyped cardiogenetic databases and patient registries, such as the arrhythmogenic cardiomyopathy registry and UNRAVEL database. Our research teams are embedded within the Circulatory Health Research Center. Our main research interest lies in elucidating the factors involved in disease penetrance, variability and risk-stratification. We educate students, residents, general practitioners and colleagues from referral sites in order to share our knowledge to improve patient care. Our specialists are participating in the generation of various (inter)national guidelines.