Amsterdam University Medical Centres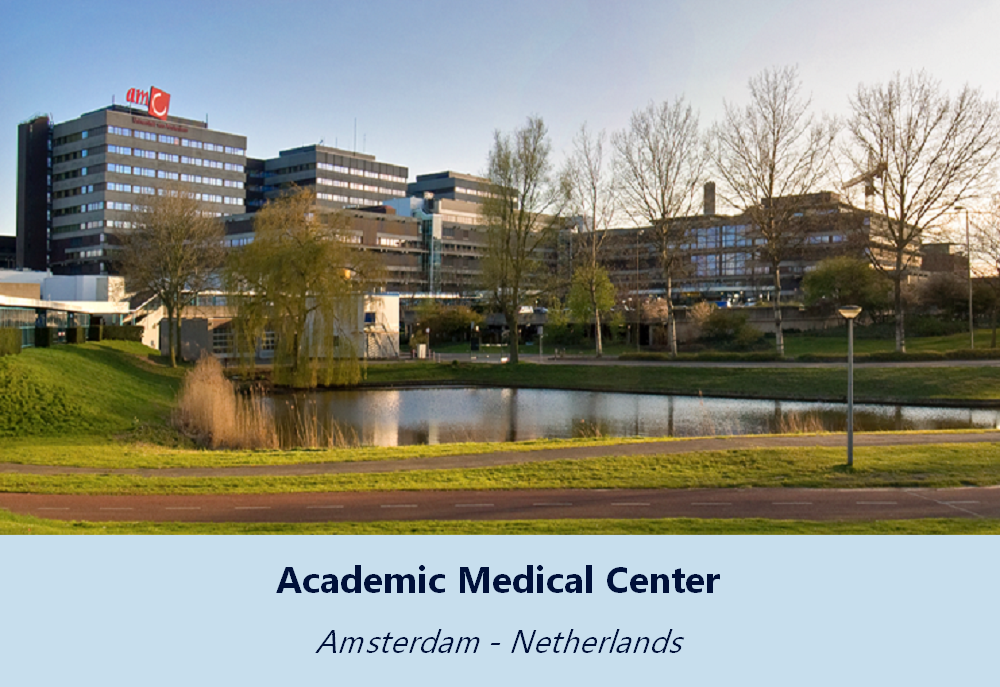 Healthcare provider: The Amsterdam University Medical Centres (AUMC), location AMC, is one of the foremost research institutions in the Netherlands, as well as one of its largest hospitals. Over 7000 people work here to provide integrated patient care, fundamental and clinical scientific research, and teaching. The AMC complex houses the university hospital and the faculty of medicine of the University of Amsterdam (UvA) as well as the Emma Children's Hospital, the Netherlands Institute for Neuroscience, the medical department of the Royal Tropical Institute and the Amsterdam Institute for Global Health and Development. A number of biotech companies (some of which are AMC spin-offs) are also located on the premises. This concentration of expertise makes the centre a breeding ground for fruitful scientific collaboration.
Medical specializations and patient services: AMC has 45 clinical and non-clinical departments. The hospital houses all the medical specializations that are recognized in the Netherlands. It also provides outstanding patient services of all kinds, including a high percentage of high-quality referral care. About 26,000 patients are admitted to AMC wards each year, whilst the outpatient clinics see around 350,000 people annually. Day care – an intermediate form of care – is becoming increasingly popular: about 30,000 patients a year receive such care. AMC is one of the Netherlands' eleven trauma centres.
Amsterdam Research: The AUMC collaborates in eight research institutes. These institutes bring together opinion leading academic research in the field of Health & Life Sciences developed in the Amsterdam Region:
Amsterdam Cardiovascular Sciences

Amsterdam Neuroscience

Amsterdam Gastroenterology and Metabolism

Cancer Centre Amsterdam

Amsterdam Reproduction and Development

Amsterdam Infection and Immunity

Amsterdam Public Health

Amsterdam Movement Sciences
Scientific collaborations with leading foreign institutions: Some 1500 members of staff are either fully or partially employed in medical research, which is regularly subjected to scrutiny by a panel of international scientists. Many of the departments and research groups at AMC work closely with leading foreign institutions, for example, Oxford and Harvard and the Karolinska University Hospital in Sweden. A lot of AMC students also complete part of their training as researchers or specialists abroad; the most popular destination is the United States. Collaboration frequently concerns Africa and Asia. Many projects are carried out by the department of Tropical Medicine – the only department of its kind in the Netherlands.
Modern, patient-oriented teaching: AMC provides modern, patient-oriented teaching for 2300 medical students, 120 medical informatics students, and hundreds of trainee nurses, paramedics and other students. All recognized specializations are taught at AMC. The AMC Graduate School for Medical Sciences provides support for 1400 PhD students from all over the world. AMC also attracts outstanding, internationally recognized scientists at the postdoctoral level. Those who are seeking to set up a research group can apply for an AMC Fellowship. In addition, postdoc positions for outstanding young researchers are awarded each year.
Reference: https://www.amc.nl/web/Research/ResearchAMC/AMC-a-glance.htm
Centre for rare and complex heart diseases: In 1996, the Cardiogenetics group of the AMC was one of the first worldwide to start a specialized cardiogenetic outpatient clinic where cardiologists, clinical genetic counselors, and molecular geneticists act synergistically. This design has allowed us to adopt a candidate-gene approach to find the familial disease-causing gene variant, often driven by specific knowledge about inherited arrhythmia syndromes. The yearly number of counselees (probands family members) increased to reach nearly 1100 in the last few years. AMC Cardiogenetics group aims to identify the diagnosis and to provide time, often presymptomatic, treatment to the carriers of pathogenic mutations. These carriers are, for the greater part, followed, supported, and treated in the outpatient clinic, according to state-of-art methods. At the same time, specific molecular-genetic expertise had been deployed to determine whether gene variants thus found can be regarded as the disease-causing gene defects. This knowledge and experience is extremely important in the light of the great technological advances in DNA testing in recent years. With the advent of Next-Generation Sequencing techniques, the number of DNA variants to be found, both disease-causing mutations and variants of unknown significance in known and unknown genes increase drastically. It is anticipated that with the enormous amount of molecular-genetic data, intensive collaboration between cardiologists, genetic counselors, and (molecular) geneticists who combine research and patient care in specialized cardiogenetic centers and share their knowledge in international databases will become even more important. AMC Cardiogenetics group has therefore a strong national and international position in clinical research. A biobank has been implemented. Since 2004, patients with an inherited heart disease (electrical diseases or cardiomyopathies) are included in a national (GENCOR) database.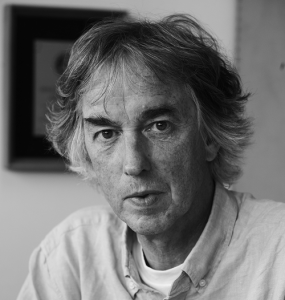 Prof. Dr. Arthur Wilde is a cardiologist and the Coordinator of ERN GUARD-HEART. He is also the representative member of the Amsterdam University Medical Centres in ERN GUARD-HEART.