IRCCS Azienda Ospedaliero-Universitaria di Bologna (IRCCS AOUBO) – Policlinico Sant'Orsola Malpighi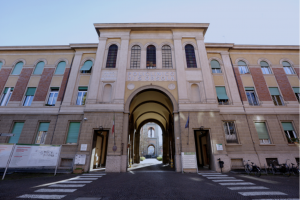 Healthcare provider
Founded in 1592 in Bologna, St. Orsola University Hospital (Policlinico di Sant'Orsola) was the first hospital in Bologna and today hosts the School of Medicine and Surgery of the Bologna University – Alma mater studiorum – the oldest university in the World, born in 1088.  The present Hospital is divided in 27 pavilions over 1.8 Km in length, organized into 9 Departments, including 87 operative Units, in the center of the City. The Hospital is equipped with 1,515 beds and staffed with 6,807 employees, taking care of approximately 49,000 inpatients and 3,300,000 outpatients yearly. The workforce includes 551 researchers, participating to 502 active clinical trials with more than 22,500 patients enrolled. In 2020 St.Orsola Hospital was recognized by the Italian Ministry of Health – Ministerial Decree, 19 September 2020 –  as IRCCS (Istituto di Ricovero e Cura a Carattere Scientifico), identifying biomedical institutions of relevant national interest.
Centre for rare and complex heart diseases
Established in 1988, St.Orsola Cardiomyopathy Unit is a tertiary high-volume referral Center, with an adult and a pediatric Division, facing to a wide range of heart muscle diseases including hypertrophic cardiomyopathy, storage diseases (Anderson Fabry disease; Danon disease), cardiac amyloidosis, arrhythmogenic cardiomyopathy, familial dilated and restrictive cardiomyopathies, neuromuscular disorders with cardiac involvement, sarcoidosis, etc. A multidisciplinary team comprising cardiologists, radiologists, geneticists and pathologists, with dedicated experience on cardiovascular diseases, ensures the state of art in diagnostics. The highest standards of care for the management of these patients is achieved by the close and long-standing collaboration of clinical cardiologists with specific expertise and electrophysiologists, heart failure specialists, interventional cardiologists and cardiac surgeons. Furthermore, due to systemic nature of many diseases, there are multidisciplinary teams involving other Specialties of the Hospital: Hematology, Neurology, Nephrology, Ophthalmology, Dermatology etc. A heart transplant program is active together with the availability of short and long term mechanical assist devices. In this regard St. Orsola Hospital is the referral center in Emilia Romagna for heart transplantation and central hub for cardiogenic shock in the region.  A regional autopsy program, involving a multidisciplinary team, is active since 2018 for patients younger than 55 years suffering sudden cardiac death. Through a productive and constant collaboration with other leading partners in Europe, our Centre has been involved in therapeutic trials and multicentre research cohort in order to improve diagnostic standards, risk stratification models and management of patients affected by cardiomyopathies.