University Hospital Brussels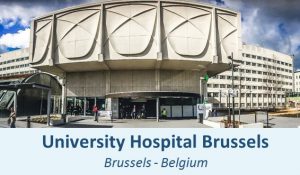 Healthcare provider: University Hospital Brussels (UZ Brussel) is an academic hospital involved in clinical care, teaching missions and scientific research. The hospital's clinical excellence, scientific commitment and human-centric tuition ensure the highest degree of competence in many fields. The hospital is closely associated with the Free University Brussels (Vrije Universiteit Brussel), notably the Medicine and Pharmacy Faculties. As a top-rate hospital, University Hospital Brussels has gained recognition at national and international level. The hospital has 700 beds, and admits more than 25,000 patients and treats 400,000 outpatients each year, both national and international. The values of University Hospital Brussels reflect one single objective: to provide patients with the best possible care.
Centre for rare and complex heart diseases: The Centre for Heart and Vascular Diseases (CHVZ), the Heart Rhythm Management Centre (HRMC) and Centre for Medical Genetics (CMG) are joining expertise in rare genetic cardiovascular diseases within University Hospital Brussels and their satellite hospital network (5 hospitals), thereby offering the highest standard of care to their patients through an multidisciplinary approach. The multidisciplinary team covers the whole spectrum of rare cardiac diseases and offers up-to-date care from diagnosis, over primary and secondary follow-up, treatment, individual and familial screening and counseling, etc. Both CHVZ and CMG have been actively engaged in the implementation of a national plan for rare disorders since its initiation in 2014, and organize and actively participate in continuous medical education programs, meetings and workshops.